Festival 2010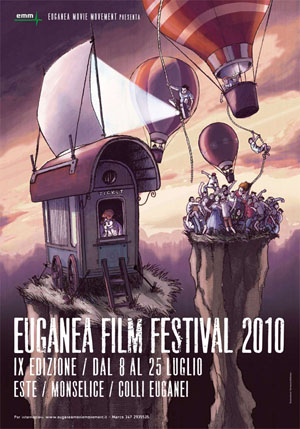 This international event is devoted to independent productions and more than a half of the documentaries and short movies taking part in the competition come from abroad. The Festival is dived into the following categories: Italian short movies; foreign short movies; documentaries; animation. There are also two extra sections, which are: Veneto Movie Movement, including works made in Veneto or by Venetian authors; Cinemambulante, devoted to the Italian documentaries dealing with the relationship between the territory and its inhabitants.
Following the route of the Cinemambulante, the Festival will travel across the Euganean Hills, between Este, Monselice and Battaglia Terme; on board of a van equipped for the screening of films, the works selected, coming from all over the world , will be presented in the Euganean towns.
www.euganeafilmfestival.it/festival2010
Miglior cortometraggio italiano
HABIBI di Davide Del Degan (Italia/Libano 2009)
Miglior cortometraggio internazionale
ICH BIN'S. HELMUT di Nicolas Steiner (Germania - Svizzera 2009)
Menzione speciale cortometraggio straniero
8 ET DES POUSSIERES di Laurent Teyssier (Francia 2009)
Miglior cortometraggio d'animazione
GIALLO A MILANO di Sergio Basso (Italia 2009)
Menzione speciale cortometraggio d'animazione
MOBILE di Verena Fels (Germania 2010)
Miglior documentario internazionale
VALENTINA POSTIKA IN ATTESA DI PARTIRE
di Caterina Carone (Italia 2009)
Premio speciale della giuria documentario
CORDE di Marcello Sannino (Italia 2009)
Menzione speciale documentario
ONE DAY AFTER THE TENTH DAY di Narges Abyar (Iran 2008)
THE DEATH OF THE GAZELLE di Jeremie Reichenbach (Francia 2009)
Premio "PARCO COLLI EUGANEI"
GENTE D'ALPE
di Sandro Nardi, Giovanna Poldi Allai, Filippo Lilloni (Italia 2009)
Premio "CINEMAMBULANTE"
ARSY-VERSY di Miro Remo (Slovakia 2009)