Festival 2009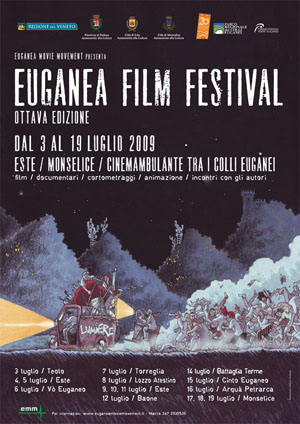 A cinema caravan strode along the Euganean Hills streets for two weeks, stopping over in the little villages and in the bigger centres.
This is how the eighth edition of the Euganea Film Festival presented itself from the 3rd to the 19th of July 2009, not only in the usual places which had already hosted the event in the previous years, such as the Cini Castle in Monselice and the Saint Francis Cloister in Este, but also in new and smaller centres of the Euganean Hills Park, thanks to a little travelling camper which brought the big screen emotions back to the people in the squares.
www.euganeafilmfestival.it/festival2009
Best international documentary
EL FUTURO ES HOY by Sandra Gómez
Best international fiction short film
SORES & SîRîN by Katrin Gebbe
Best italian fiction short film
AFTERVILLE by Fabio Guaglione & Fabio Resinaro
Best animation short film
DOWN THE ROAD by Rune Christensen
Special mention for the best direction
ZOHAR by Yasmine Novak
L'AMORE NON ESISTE by Massimiliano Camaiti
Special mention animation
URS by Moritz Mayerhofer
Prize "PANORAMA VENETO"
MAISTRAC by Filippo Meneghetti
Prize "PARCO COLLI EUGANEI"
RUMORE BIANCO by Alberto Fasulo
Special prize "CINEMAMBULANTE"
UNO SCAMPOLO DI PARADISO by Gabriele Vacis
Audience prize
IVAN E LORIANA by Stefano Cattini