Festival 2007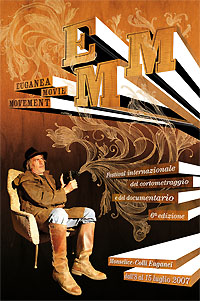 In the closing evening of the festival (July 15th) there has been a huge number of people coming to Cava della Rocca to witness the awarding of the 6th edition's works.
The winning works have been shown for the people to appreciate their value. The two juries involved in the price-giving have been in trouble since the quality of the works presented was quite high.
EMM would like to thank the municipalities, the authorities, the large public which have all contributed to the success of this edition of the festival.
Visit the EMM 2007 edition's website
Best Italian Short Film
PURCHE' LO SENTA SEPOLTO by Gianclaudio Cappai
Best International Short Film
SECURITY by Lars Henning
Best Documentary
SIX CONCEPTIONS OF FREEDOM by Thomas Ostbye
Best Animation Short Film
LA MEMORIA DEI CANI by Simone Massi
Special Mention
ADJUSTMENT by Ian Mackinnon (short film)
A VERDADE DO GATO by Jeremy Hamers (documentary)
Audience Award
A LITTLE TIGER by Anna-Carin Andersson