Festival 2011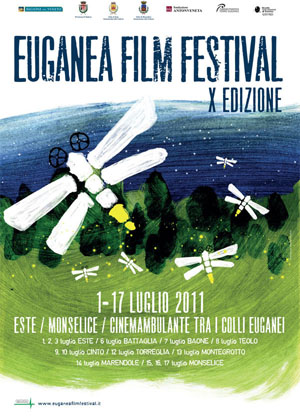 From 1 to 17 of July 2011 the X edition of the Euganea Film Festival will take place in various locations in the area of the Euganean Hills.
This year too the festival aims at being a travelling event, a dialectical place with multiple facets, where reality and imagination merge, thus offering a chance to socialize, reflect and create.
The choice of mounting screenings and performances in different places, thanks to the van of the Cinemambulante, allows not only to bind the festival and the territory even tighter, but also to make every night a once-in-a-lifetime experience. The light of the sunset, the stars, even the perfumes enhance the uniqueness of the films, coming from all over the world and selected with the greatest attention for the strength of their contents, for the ideas they convey, for the capacity of arousing reflections and feelings.
Most of the times, the films taking part in the competition – divided into six sections – will be presented by the directors themselves, hosted in the Euganean Hills for the festival, thus transforming the screening into a moment to discuss and get to know new ways of working and remarkable experiences.
www.euganeafilmfestival.it/festival2011
Miglior cortometraggio italiano
BIONDINA di Laura Bispuri (Italia 2010)
Miglior cortometraggio straniero
EL SOMRIURE AMAGAT di Ventura Durall (Spagna 2010)
Menzione speciale cortometraggio straniero
THE SCENT OF FLOWERS DOES NOT BLOW AGAINST THE WIND di Leszek Korusiewicz (Polonia 2009)
Miglior animazione
LOSE THIS CHILD di Yuval and Merav Nathan (Israele 2010)
Menzione speciale animazione
THE GLOAMING di Nobrain (Francia 2010)
Miglior documentario
LA SOSPENSIONE di Matteo Musso (Italia 2011)
Premio "PARCO COLLI EUGANEI"
POLVERE - IL GRANDE PROCESSO DELL'AMIANTO di Niccolò Bruna, Andrea Prandstraller (Italia 2011)
Premio "CINEMAMBULANTE"
CONCRETE COAST (Costa di Cemento) di Robert Harding Pittman (Spagna 2009)
Premio "VENETO MOVIE MOVEMENT"
NEVE di Luca Zambolin, Diego Scano (Italia 2010)