Edizione 2004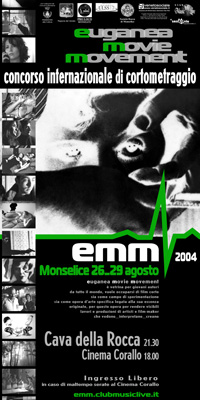 After four days of showings in Monselice EMM (Independent cinema and shorts festival) comes to its end on Sunday 29th August 2004.
The public has appreciated the large number of shorts and films shown in the fabulous setting of Cava della Rocca
The attention shown by the press and the media (Tele Padova – 7 Gold, Tele Chiara, Tele Nord-Est, Radio3) has contributed to create a particular interest about the side events such as Laboratorio309 and Etnofilm which were present in the line-up of the festival.
This third edition which has also enjoyed the afternoon showings at Corallo cinema has achieved the goals the association had previously set. We will start from this success to organize the future edition but also to show the festival in winter throughout the territory of Colli Euganei.
Visit the EMM 2004 edition's website
Best Italian Short Film
Sei quello che mangi by Stefano Russo
Audience Award
Autodistruzione per principianti by Ivan Silvestrini