Festival 2008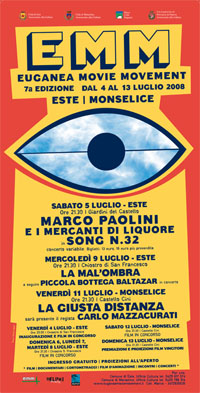 The audience, attentive and hearty, has followed the kermesse and the 40 competition works, splitted in 4 sections, dedicated to the Italian and Foreign short film, to the Documentary and to Animation. Works coming from Germany, Sweden, Finland, Poland, France, Spain, Great Britain and Singapore met the Italian filmography in the dealt with subjects.
Integration, multiculturalism, the problems linked to work, family and the precariousness which invades and involves every aspect of the life of the modern man have been the centre of attention of documentaries, short films and animation films.
Recent events mingled with private life bestowing a global connotation, nevertheless deeply bound to the territory.
Visit the EMM 2008 edition's website
Best Italian Short Film
VIETATO FERMASI by Pierluigi Ferrandini
Best International Short Film
ELVIS AND I by Michael Sommer
Best Documentary
KESAN LAPSI (Summerchild) by Iris Olsson
THE DESERT CHRONICLES by Frederick Jan Depickere and Pablo Castilla
Best Animation Short Film
STYRI by Ivana Sebestova
Special Mention
AUFRECHT STEHEN by Hannah Schweier (short film)
BROTHERS by Isabel Grunwald (documentary)
Audience award
TONY ZOREIL by Valentin Potier
LA PREZIOSA ANIMA DI FAUSTO by Astutillo Smeriglia
LAS GAFAS by Alberto García Martín