Festival 2012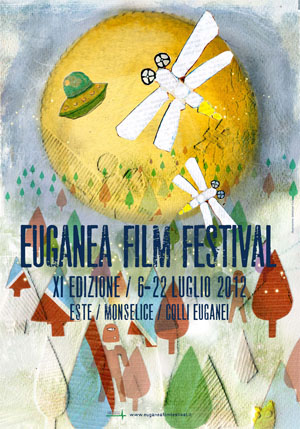 From 6 to 22 of July 2012 - The XI edition of the Euganea Film Festival - Euganean Hills.
The eleventh edition was full of initiatives and firmly entrenched in the territory that hosts it. A film festival is open to innovative language documentary and short film. An open window on Italy and the world, about what happens with the new trends of a constantly evolving language. This year's festival was structured starting from the genres that have characterized the past ten years: animation, short film and documentary filmmaking. This gave rise to the Euganean Comics & Animations and Euganea Doc, accompanied by special evenings devoted entirely to short films.
In addition to the competitive section was added to the prize Euganean Hills Park, devoted to works that address environmental issues, and the Veneto Movie Movement, a section dedicated to the cinema of our region. Finally, in collaboration with the Antica Trattoria Ballotta Torreglia, was awarded the 4th prize Gamba - Creativity and Territory Natalino Balasso.
The projections were accompanied by the authors, as guests of the festival every year. Another important section was that of Cinemambulante, the initiative that perhaps more than any other, has characterized the last editions of the festival. The van equipped for projections through the hills and projecting the film festival in the villas, castles and parks, this year has made stops in Step Fiorine, on the Mount of Teolo, the Castle Catajo Battaglia Terme and Parco delle Ginestre Baone.
As tradition projections were joined some special events this year entirely dedicated to cinema: the projection of Pirates! , the last effort of Peter Lord of Aardman animations, a tribute to Piero Tortolina with the film Detour by Edgar J. Ulmer, and the projection of Io sono Li by Andrea Segre, in competition at last year's Venice Film Festival.
www.euganeafilmfestival.it/festival2012
Miglior cortometraggio di animazione
Duo de volailles, sauce chasseur di Pascale Hecquet (Belgio - Francia 2011)
Menzione speciale cortometraggio di animazione
Blick di Bastiaan Schravendeel (Paesi Bassi 2010)
Menzione speciale cortometraggio di animazione
A morning stroll di Grant Orchard (UK 2011)
Miglior cortometraggio di fiction
Glasgow di Piotr Subbotko (Polonia 2010)
Menzione speciale cortometraggio di fiction
Mon amoureux di Daniel Metge (Francia 2011)
Menzione speciale cortometraggio di fiction
Solo noi tre di Giampietro Balia (Italia 2011)
Miglior documentario
Planete Kirsan di Magdalena Pieta (Polonia 2010)
Menzione speciale documentario
The last chapter di Maximilian Haslberger (Germania 2012)
Premio "VENETO MOVIE MOVEMENT"
Le perle di ritorno, Odissea di un vetraio africano di Franco Basaglia (Italia 2011)
Premio "PARCO COLLI EUGANEI"
Piccola terra di Michele Trentini (Italia 2012)
Premio "CINEMAMBULANTE"
Freakbeat di Luca Pastore (Italia 2011)