Yonash, a junior IDF soldier, is supposed to stay at the army base over the weekend to serve his punishment. At the last moment, he is given a chance to return home with the others. Seven minutes is all that separates Yonash from his temporary freedom.
Biography/Filmography: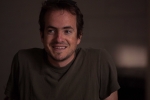 Writer-director based in Tel Aviv. Assaf graduated from the Met Film School in London, specializing in cinematography. Assaf's graduation film was selected for more than 140 film festivals, won 16 awards, and was broadcast on 7 TV channels. Since his return to Israel, Assaf received a development grant from the Israeli Film Fund along with a special grant from the Polish Film Institute to write his first feature. Assaf was selected to participate in the 2015 Berlinale Talent program and the 2016 Locarno Filmmakers Academy and is now working on various projects both for the small and the big screen.