The Magic Hedge explores a bird sanctuary located on a former Cold War Nike missile site on the north side of Chicago. Left to wander and observe, the viewer becomes aware of the park's open secret: men looking for fleeting sexual contacts within the trees and shrubberies. The video highlights the many contradictions of a site historically devoted to military surveillance and now designed to preserve and control the "wildlife".
Biography/Filmography: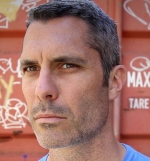 Frédéric Moffet is an award winning media artist, educator, video editor and cultural worker. He lives between Montreal and Chicago. His work explores the slippery territory between history, lived experience and fantasy. Recent work include Hard Fat (2002), Jean Genet in Chicago (2006), Postface (2011) and soon The Faithful. Recent screenings include: Rotterdam Film Festival, Whitechapel Art Gallery (London), Walker Art Center (Minneapolis), Museum of Contemporary Art (Chicago), PPOW Gallery (New York), Biennial of Moving Images (Geneva), Pleasure Dome (Toronto), Other Cinema (San Francisco), Kassel Documentary Film Festival, Microwave (Hong Kong) and Taipei Golden Horse Film Festival.