A satire of modern society recounting the adventures of the last in a line of Supermen, the film pokes fun at the processes that lie behind advertising, politics and our consumer society.
Biography/Filmography: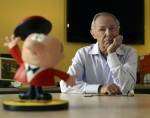 Bruno Bozzetto è uno dei più riconosciuti e apprezzati animatori mondiali. Insieme ai suoi divertenti e originali lungometraggi, tra cui West and Soda, è anche l'inventore del signor Rossi e delle sue peripezie che sono ormai nel cuore di tutti. L'autore ci guiderà attraverso la sua carriera e le sue opere.