Two parallel journeys, Bianca's and a young illegal immigrant's, end up overlapping, in search of an impossible salvation, despite an almost inevitable shipwreck. At all costs. Against the odds and common sense. This is the story of Bianca. Bianca and her rusty whale. The fishing boat Moby Dick.
Biography/Filmography: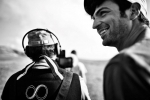 Nicola Sorcinelli è un giovane regista Italiano. Inizia il suo percorso artistico durante l'infanzia tra i banchi di scuola. Da subito viene selezionato nei più importanti festival internazionali. Ad oggi ha all'attivo più di 90 riconoscimenti internazionali. Nel 2016 vince il premio come miglior regista rivelazione al Festival Del Cinema Europeo. "Il Resto del Carlino" lo inserisce nella classifica dei 100 nuovi giovani orgogli italiani. È rappresento in Italia dall'agenzia Officine Artistiche.