A greedy villain tries to coerce a woman into marrying him so he can take over her land, when a stranger rides into town intent on taking down the bad guys.
Biography/Filmography: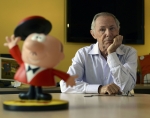 Bruno Bozzetto è uno dei più importanti e riconosciuti animatori mondiali. Il suo esordio avviene nel 1958, appena ventenne, con il cortometraggio Tapum! La storia delle armi, presentato a Cannes dove è apprezzato da Norman McLaren. Nel 1960 crea il personaggio che lo farà conoscere al grande pubblico, il signor Rossi, incarnazione dell'italiano medio. Nel 1965 esordisce nel mondo del lungometraggio con West and Soda, una paradia del genere western, cui segue nel 1968 Vip, mio fratello superuomo e nel 1976, propone la risposta italiana al classico disneyano Fantasia con Allegro non troppo. Le sue opere spaziano dalla pubblicità alle collaborazioni televisive, rendendo famigliare il suo tratto pulito e semplice, insieme allo spirito satirico corrosivo e mai banale che lo caratterizza.