This is a movie-memory, narrated by a young boy about his views on life and death. It's also a story about an unusual grandfather, who could listen to the trees breathing and believed that "Person can't die if someone still loves him".
Biography/Filmography: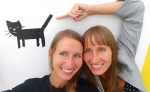 Olga Poliektova and Tatiana Poliektova, twin sisters were born in St-Petersburg, Russia. Since early years they began to draw and graduated Art school. After graduating at the University of Cinema and Television in animation and computer graphic, they started to work together as film director duo and animators. During these years they made several short animation films ("Tomato story", "Inspiration", "Noise", "I see you", "Quagga", "Warm Liguria") which took part over then in 100 worldwide festivals and earned over 50 awards. Their animation film "Noise" was first screened at Cannes Film Festival (Short Corner) in May 2012 and also at Moscow International Film Festival in June 2012. In 2013 they made animation film "Quagga" in production with Tve (television for the environmental) and Bloomberg, London. It was awarded as the Best Environmental film in Kuala Lumpur Eco Film Festival (Malaysia), Ecotopfilm 2013 (Slovak Republic) and got in the list of top 50 best shorts of Russia (Global Russian shorts). In 2014 they were invited as a jury on Lucania International Film Festival (Pisticci, Italy). In 2015 their new film "My Grandfather was a cherry tree", made with the support of Ministry of Culture of Russian Federation, won the prize on the biggest children film festival in Italy – Giffoni Film Festival. And also the prize for the best animation film and the best technique on Lucania Film Festival (Pisticci, Italy). It was selected on Ottawa Animation Film Festival in Canada. Filmography: 2010 – animation film "Tomato story" 2012 – animation film "Noise" 2012 – stop motion film "I see you" 2013 – animation film "Quagga" 2014 – stop motion film "Warm Liguria" 2015 – animation film "My grandfather was a cherry tree"