The 8-year-old Aida lives in an apartment in the Parisian suburb. The daily life of Aida and the whole family is overwhelmed when her father comes back from Senegal, their country of origin. Actually, he did not come back alone. He returned with the young senegalse Rama whom he introduced as his second wife. Aida is very sensitive to her mother's distress. She decides then to get rid of the new visitor.
Biography/Filmography: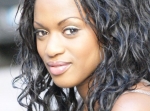 Prize-winner of the scenario's competition " Hlm sur court ", Maïmouna realizes in 2013 her first autoproduced short film, "Hide-and-seek" "Mother(s)" is her first realization accompanied by a production company. It is about a movie inspired by her personal experience, the subject of which is the upheaval of a child confronted in the polygamy.