Il maggio, il merlo: si nascondono al momento del canto. Le mois de mai, le merle: Ils se cachent au moment de chanter. The month of May, the blackbird: they hide while they sing.
Biography/Filmography: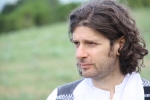 Simone Massi nasce a Pergola il 23 Maggio 1970. Animatore indipendente, ha ideato e realizzato una decina di piccoli film di animazione che sono stati mostrati in 60 Paesi dei 5 Continenti ed hanno raccolto oltre 200 premi. Immemoria (1995), In aprile (1995), Millennio (1995), Racconti (1996), Niente (1996), Keep on! Keepin' on! (1997), Adombra (1999), Pittore, aereo (2001), Tengo la posizione (2001), Piccola mare (2003), Io so chi sono (2004), La memoria dei cani (2006), Nuvole, mani (2009), Fare fuoco (2011), Dell'ammazzare il maiale (2011), Venezia / Massi (2012), Lieve, dilaga (2012), Animo resistente (2013), L'attesa del maggio (2014).