Carretera Cartonera è un viaggio e un documentario che attraversa cinque paesi dell'America Latina alla scoperta delle Editoriales Cartoneras: cooperative o gruppi di persone che si uniscono per produrre libri rilegandoli col cartone generalmente comprato ai cartoneros, persone che per vivere rivendono il cartone abbandonato nelle città.
Biography/Filmography: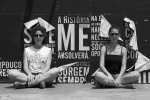 Marta Mancusi, videomaker, and Anna Trento, photographer, have been collaborating for a long time. They both share the love for traveling and social issues, combining their passion of discovering with the skill of narrating what's new, aiming to make the audience get closer to realities that could be examples of change.