One of Germany's longest bridges spans the Kiel Canal near Brunsbüttel at a height of 40 metres. As one approaches the structure, the more impressive its visual and acoustic appearance becomes. For the workmen and engineers of the technical service crew, the bridge is an object to be examined. For this movie, the bridge becomes actor, resonating body and metaphor.
Biography/Filmography: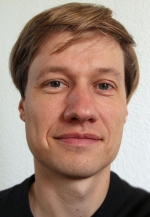 Karsten Wiesel grew up in Thuringia, Germany. He finished his apprenticeship as a wood-carver in Flensburg, where he initiated the local short film festival in 2000. Between 2001 and 2007, he studied at the University of Fine Arts of Hamburg. Since then he has been living and working as filmmaker in Hamburg.