VENETO FILM TOUR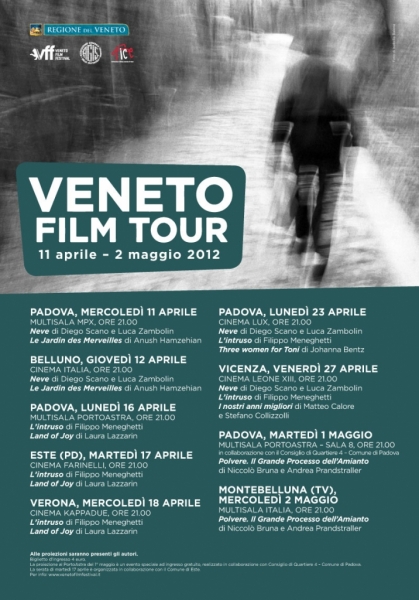 From 11 April to 2 May in the cinemas of Veneto a review of films to tell the region with an innovative language and the look of young authors
From 11 April to 2 May start Veneto Film Tour, first edition of a film festival, which presents  works made by authors from Veneto, produced by production companies in Veneto or that have some close ties with the region. Nine appointments in arthouse theaters in  Veneto, where the directors will be in attendance.  The evening of May 1st is a special event made ​​in collaboration with Council District 4 - City of Padua.

Veneto Film Tour is more than a brief review. The goal is to grow over time and create a real distribution network for independent works by exploiting the potential of the many cinemas in cities and province with the support of the FICE (Federation of Italian Cinema d'Essai),  together with 'Three Venezie AGIS (Italian General Association of Performing Arts), that are active partners of the initiative.

 

The initiative was established with the aim of highlighting the work that reflect different aspects of our region, often hardly visible from public that daily lives our territory. These are films that do not have a official release, but that are important for the strength of the themes and the originality with which they are addressed. Looks new and attentive to reflect on the past and better understand the present.
data pubblicazione: 7 April 2012