Basilisk
by Arkadiusz Jurcan

Animation | Poland | 2011 | HD | 3 min.

italian subtitles by EMM

Date

Location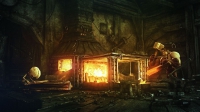 It's a new version of old polish legend about basilisk. There are big dungeons somewhere deep under Warsaw. Story told there lives a lot of strange creatures. And one of them was basilisk - big dragon. Ugly and stenchy. People, who walked close to gate of the dungeons, lost without a trace. One day two children from Warsaw wanted to go to a fair to look at many miracles there...

Biography/Filmography:

Arek Jurcan is a young and talented 3D animator. He got his experience in the big postoroduction house in Poland Platige Image. Now he's working in Orka Postproduction as a 3D team lead.

Direction

Arkadiusz Jurcan

Story

Jerzy Siatkiewicz

Music

Bartez Putkiewicz

Production

Studio Produkcyjne ORKA Sp. z o.o.